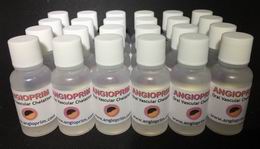 Major Cleansing.

This package is intended as thorough and restorative cleansing with Angioprim.
- For those with diagnosed blockages between 30% and 70%.
- Serious symptoms associated with Cardiovascular issues, e.g. out of breath after exertion, slight pressure in the chest or light angina pain, persistent numbness in the extremities, cannot walk a mile without getting pain or shortness of breath, etc..
- Major High Blood Pressure and Cholesterol Issues.
- May be used by a couple planning to do the primary cleansing together.